Alimentary habits, smoking and alcohol consumption among students at the University Center for Biological and Agricultural Sciences
Palabras clave:
eating habits, smoking, alcohol, students.
Resumen
Abstract
Food, alcohol and tobacco consumption habits were evaluated in a sample of 145 randomly-selected students from the Agronomy, Veterinary Medicine and Zootechnology programs at the University Center for Biological and Agricultural Sciences in 2012. A ques- tionnaire on food, alcohol and tobacco consumption frequency was applied, and the age and sex of all participants were recorded. The results were analyzed statistically using contingency tables and an X2 test (p<0.05). Of the 145 respondents, 63% (n=92) were males and 37% (n=53) females, with ages ranging from 21-to-25 years. Findings showed a high intake of dairy-based proteins (95%) and meats (70%), but a low intake of fruits (30%) and vegetables (44%) (p<0.05). With regards to smoking habits, 27% were smokers: 20% regular smokers, and 7% occasio- nal smokers. In relation to alcohol consumption, the survey found that 76% of respondents ingest different alcoholic beverages. The nutritional habits observed show that food consumption in the study population is not balanced. 
Therefore, it is necessary to make students aware of the importance of a balanced diet. On the other hand, the alcohol and tobacco consumption detected clearly show the need to implement strategies to reduce intake of these substances.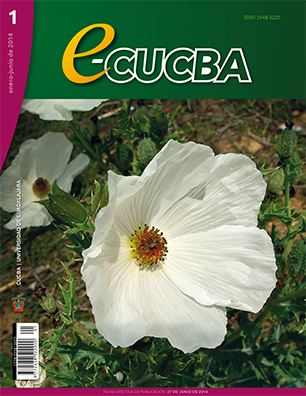 Descargas
Cómo citar
Cruz, Z. G., Hernández Tinoco, A., Torres Morán, J. P., & Landeros Ramírez, P. (2014). Alimentary habits, smoking and alcohol consumption among students at the University Center for Biological and Agricultural Sciences. E-CUCBA, 1(1). https://doi.org/10.32870/e-cucba.v1i1.37